Treat yourself to Jamaican Blue Mountain.


JMB coffee comes from such a small place on earth no one even knows it's there. Bob Marley, Reggae music, assorted recreational diversions, sure. But a blue mountain? Ask around. This coffee is so rich in flavor, nutty and cocoa with hints of fruit. So fragrant and deep in feeling that only a small place on earth could contain it. I only found out about it from friends who said if was going to get into coffee THIS WAS THE ONE TO GET. So, here it is. Problem is, I cannot keep enough of it around. Share it with me and with your friends.

FRESH ROASTED IN TORONTO.

Experience Hawaiian Kona with friends.


I first heard of Kona at a friend's house where we shared bottles of wine, restaurant choices and other treasured finds. They had just returned from Hawaii and we were only allowed to have a little HK – the coffee had to last because they only had two bags from their trip! We enjoyed Kona rations and when we ran out we mourned our loss. Here we have 100% fresh roasted pure Hawaiian Kona. AS MUCH AS YOUR HEART DESIRES, with its smooth, mellow taste – never bitter and aroma that makes you swoon.

FRESH ROASTED IN TORONTO.



Yeah. Yeah. Yeah. Cat Poo this. Cat Poo That. Here is the Real Kopi Luwak.


When I first went to Chicago to see if the specialty coffee business was for me, about 8 years ago, this handsome young man sat way at the back at this little table. White table cloth, pill bottles o'poo and baggies of beans. A basic sign. KOPI LUWAK, THE MOST EXPENSIVE COFFEE IN THE WORLD. $225/LB. He also had endless amounts of paper and photos. A couple of hours later, I was his customer, and if Indonesia was not such a hotbed of fakery and hoodlums, I still would be. My supplier, in the Phillipines, farms only naturally occuring poo in a giant nature reserve from free roaming civets (Luwaks) and roasts fresh just before shipping to me. This coffee is only Robusta size beans (the small ones) and is the chocolatey, aromatic and wild taste you should be getting for that kind of dough. If you are into that kind of thing!
Great taste, strength, rated XXX. That's Ethiopian Yirgacheffe.

My coffee learning curve took a huge leap when I found out the difference between STRONG and BOLD. Strong is how much coffee you put in the water. Bold is how much kick is in the bean before you even take it out of the bag! Our Ethiopian Yirgacheffe XXX sends greetings from the organic, shade grown, fair trade coffee growers of Africa right out of there, and that bull tells you so! ENJOY THAT FULL FLAVOR at that wonderful price. This coffee tastes orgasmically delicious.
FRESH ROASTED IN TORONTO.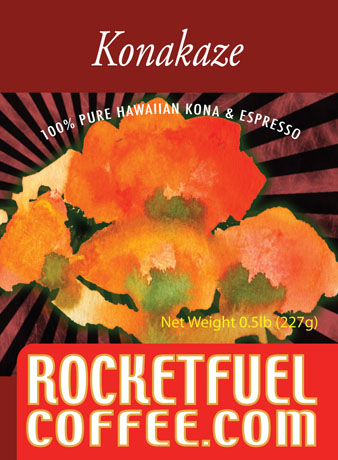 I made up this one: KONAKAZE.

Let's say you have a prize stallion-supermodel Italian and he meets a hippy-pretty-hula-girl on her way home from a Hawaii. They get married and have a baby. This is KONAKAZE. A perfect blend of fresh roasted espresso and Hawaiian Kona coffees… for every day, everywhere, any time. LET IT BE in your cup. ROCK YOUR WORLD at dinner. BRING IT ON at your next friendly gathering. Like being a hero? Who doesn't? Stong notes from the robusta espresso and the bright flavors of citrus, nutty Kona. MMMWAH!
FRESH ROASTED IN TORONTO.